PORTON PHARMA SOLUTIONS LTD., a world leading CDMO (Hereafter PORTON) announces plans to invest into a new state of the Art cGMP/API facility inside, Life Science Park Mengeš, Slovenia currently owned and operated by Lek Pharmaceuticals d.d., part of NOVARTIS group.
PORTON's manufacturing activity in the Life Science Park Mengeš will be totally separated from the one of NOVARTIS.
Under the Terms of the Agreement with the Life Science Park Mengeš owner, PORTON will invest in R&D and manufacturing facilities including Development Labs, Kilolabs, Pilot Plant and large scale manufacturing facility adding totally around 130 m³ of state of the art cGMP/API capacity to PORTON's manufacturing Network. More than 200 employees will be employed over time.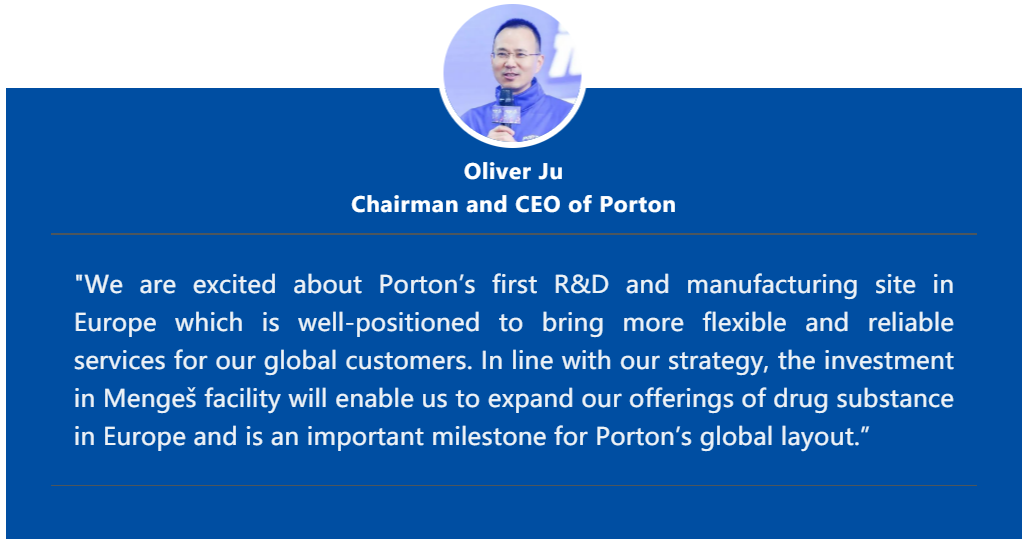 The Mengeš facility will allow PORTON to stay ahead of growing demands for integrated small molecules solutions for our clients. The Site will provide cGMP services and APIs to our international Pharma clients, utilizing PORTON's rich Technology Platforms.
This announcement marks the latest in a series of worldwide expansions the company has made across China, Europe and the USA.
Deloitte has advised PORTON for this transaction.
ABOUT PORTON
With over 4,700 customer-centric employees, operations and commercial offices across the US, EU and China, Porton Pharma Solutions Ltd. provides global pharmaceutical companies with innovative, reliable and end-to-end process R&D and manufacturing services across small molecule APIs, dosage forms and biologics.
Our Process Technology Centers and WHO/USFDA/EMA/PDMA/NMPA-inspected Manufacturing Facilities feature state-of-the-art equipment, highly flexible cGMP-compliant production assets, plus over 1500 highly skilled scientists and process engineers, all backed by a proven program management system dedicated to seamlessly delivering successful outcomes for your unique project requirements.
We are committed to being the most open, innovative and reliable pharmaceutical service platform in the world and enabling public's early access to good medicines. We constantly strive for excellence, and have been recognized through awards by industry forums and global pharmaceutical companies for our process innovation, supply chain performance and compliance with global Quality and EHS standards. By efficiently advancing development and enabling commercialization of multiple high-impact medicines, Porton is proud to have earned the trust of some of the world's leading and most innovative pharmaceutical companies and many biotechnology companies across the US, EU and Asia.